Over the last two weeks it's been impossible to cast even the most fleeting of glances at the internet without some movie, TV, comic or toy themed announcement smacking you on the forehead. San Diego Comic-Con dominates the pop culture landscape at this time of year and in 2019 it's dropped plenty of the announcements and reveals we've become conditioned to expect. I may never get to live my dream of physically attending SDCC, but I do get a consolation prize of being able to at least partially enjoy it via the deluge of information that swamps my social media feeds every July. I've already taken a quick saunter through Hasbro's Transformers reveals (you can check them out here), but there is so much more that you may have missed if your life is more busy than mine. Which is most people.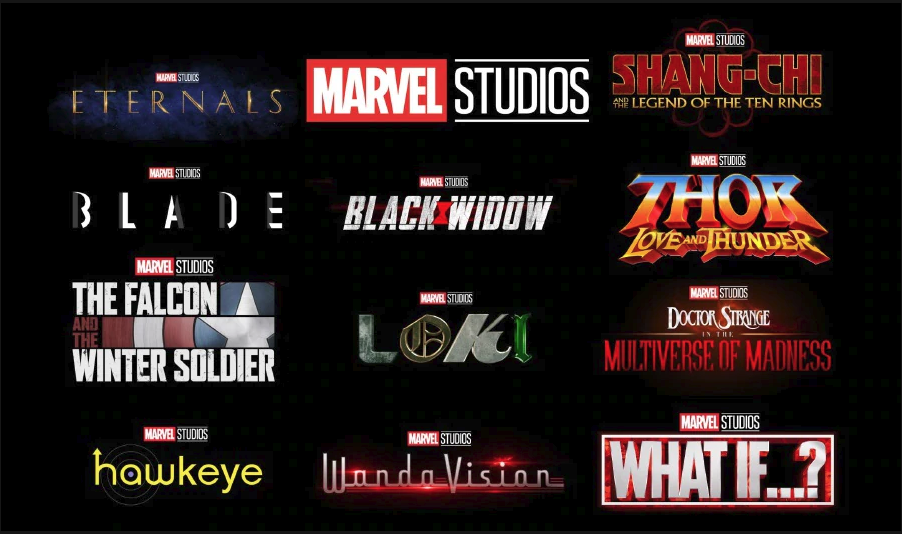 10. Marvel Is The True Never Ending Story
SDCC 2019 saw Marvel reclaim Hall H after skipping the event entirely in 2018. This year didn't give us any of the bombshell trailer drops that usually set the internet ablaze, but we did get to see the slate for phase four as Disney's cinematic juggernaut begins to slowly move in a new direction. We do have a new Thor flick, with Natalie Portman now wielding the hammer, and fellow Avenger The Black Widow gets her first solo outing, but we also move to fresher pastures with the announcements of Shang Chi and Blade getting their own movies. Mahershala Ali bringing significant Oscar winning clout to Blade as he steps into the titular vampire hunting role previously inhabited by Dr. Wesley Snipes.
If Marvel can elevate Shang Chi in the same way they did the Guardians of the Galaxy – then I'm calling a MODOK best picture Oscar win for space year 2038.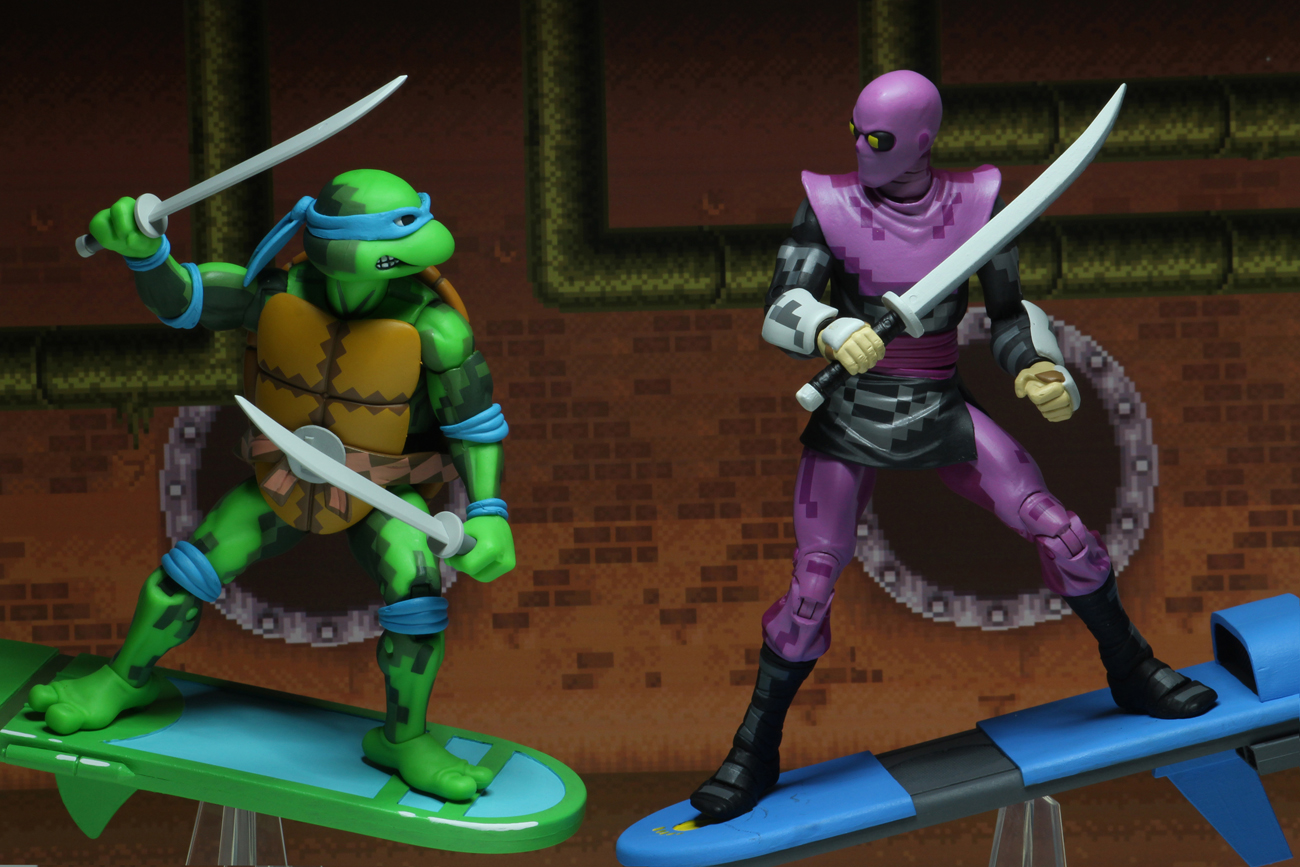 9. NECA'S Arcade Turtles Are Getting A Do-Over
During the summer of 1990, the classic Teenage Mutant Ninja Turtles Arcade game ate all of my pocket-money during a week long holiday to dreary Mablethorpe. Looking to capitalise on the potent nostalgia kids of a certain generation have for that legendary game, NECA are giving their TMNT figures a "Turtles in Time" makeover with retro video game inspired paint jobs. We've seen extremely similar figures before, in years past as SDCC exclusives in fact, so to sweeten the deal NECA are chucking in some fun new accessories, such as jazzy looking hoverboards, and even a new character – Slash!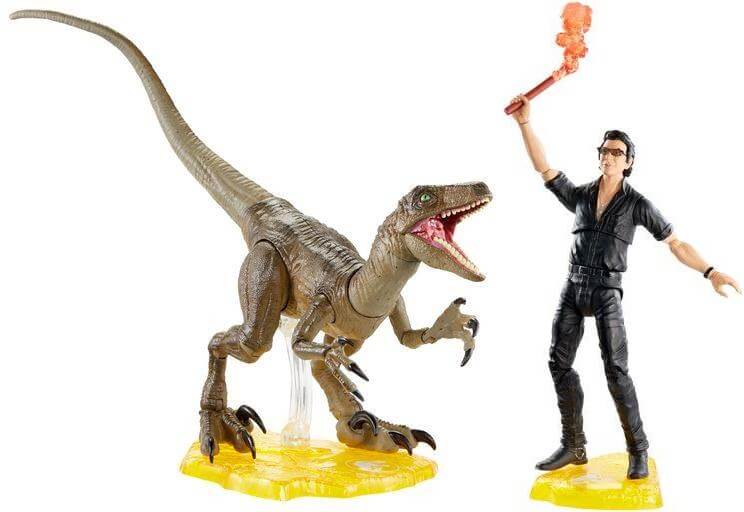 8. Mattel's Jurassic World Amber Collection Spares No Expense
Mattel continue their strange trend of refusing to believe that the world, outside of the United States, has seen Jurassic Park. Their much anticipated 6 inch figure Amber Collection scratches a two decade long itch and also finally gives us a Raptor with knees, but whilst Mattel giveth with one hand, they also taketh away with the by only making the figures available from Gamestop stores in North America. Yay.
(That yay was sarcastic, just in case that wasn't clear)
7. WWE x MOTU
Big sweaty men in pants meet more big sweaty men in pants as the Masters of the Universe and the Superstars of the WWE collide. With a live action MOTU movie riding Battle Cat across the horizon, Mattel's marketing machine is warming up with perhaps the most obvious crossover ever. The most shocking thing about it is that it's taken this long. Highlights include The New Day as Man-E-Faces and a spectacular looking fusion of Rey Mysterio and Stratos. Triple H might not get his wish to play He-Man in a live action movie, but he does at least get TWO of his own Masters of the Universe style action figures to play with.
6. The Masters of the Universe Vintage Figures Are Making A Comeback – Now With Knees
There's an often used expression that you hear in almost every fandom of: "why can't they just make the old toys but with articulation". Well, Mattel have heard taken that one to heart and added a few extra joints to their iconic vintage Masters of the Universe figures. Sadly not due for release until fall 2020, the line kicks off somewhat predictably with new toys of He-Man and Skeletor. As the new live action movie was recently delayed until 2020 I wonder if that's why we have such a painful wait for these gloriously loinclothed figures.
5. Picard – The Grapes of Wrath
There were so many shots of vineyards and booze in this trailer, that I can only surmise the plot is going to involve The Borg pinching Picard's latest batch of grapes, forcing him to hunt them down in order to get a couple of cheeky bottles on the go. Do they not have Lidl in whatever Stardate this is set? Whatever is going on, it looks to be another interesting departure from the standard "ongoing mission" voyage that the classic Trek shows were built around.
4. Westworld Is Returning To Punch Nazis
HBO dropped a trailer for Season 3 of Westworld, which is both exciting and painful at the same time. Exciting because the show has two fantastic seasons behind it – painful because we have to wait until 2020 to see it's third outing. From what we can glean from trailer it looks like we'll see more of the Hosts out in the world, a World War 2 themed park, and Bernard stumbling about in a field. Bonus points go to them for shooting scenes at Valencia's City of Arts and Sciences as it let me giddily shout: "I'VE BEEN THERE!!!".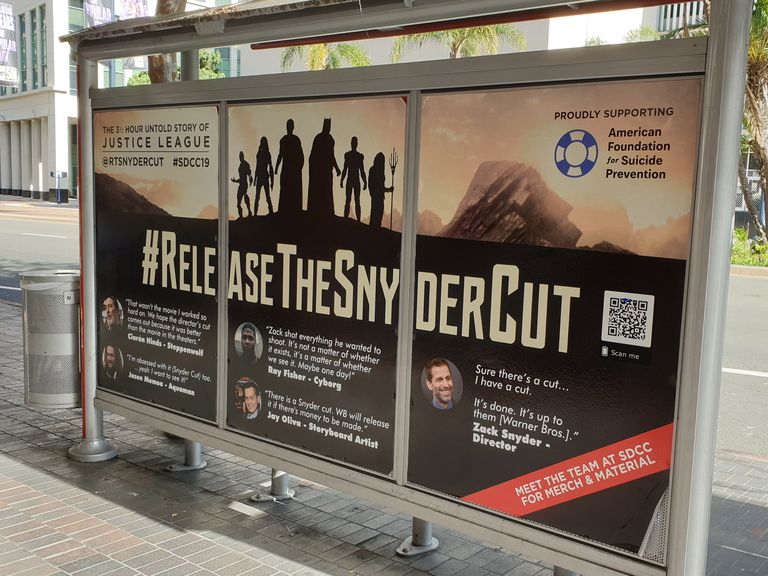 3. Some People Really, Really, Really Want To See The Snyder Cut
Adverts for movies plastered on the side of bus shelters might seem like nothing out of the ordinary, but it's not often you see them demanding alternate cuts of movies that flopped. I didn't dislike Zack Snyder's DC movies, but  demanding a release of the Snyder cut of Justice League seems like such an odd hill to die on. Like, if you desperate to see Snyder's version of Justice League, slap on some Smashing Pumpkins and play the movie in slow motion whilst dangling a crucifix in front of your eyes. It's a similar experience.
2.Steven Universe The Movie Got A Trailer
Steven has travelled the universe. And grown taller. There's a new Mickey Mouse looking gem. There's Pink lava. A new song from Garnet. Peridot is still Peridot. DID I MENTION STEVEN HAS GROWN!?
As did Top Gun: Maverick
Doing nothing to dispel the notion that I am obsessed with the 1980's, soaring to the top of my list is the trailer for the sequel to 1986's Top Gun. Regular readers will know that I frequently go through phases where I become completely obsessed with things, and for a few months circa 1987 I was convinced my destiny was to become an Air Force pilot, with a life soundtrack'd by Kenny Loggins. When this film hits in 2020 expect me to be swanning about in aviators and taking up volleyball. Tom Cruise actually learned to fly the F/A -18 fighter for this movie at 57 years of age, proving that at age 36 I still have time to learn to drive.
That wraps up our SDCC round up for 2019. As usual it was a great show that set the stage for some fantastic TV, Movies, Comics and toys to come over the next year and beyond. This list is just a few of my own personal highlights but what were yours? Feel free to hit me up on Twitter to let me know what you thought was the most exciting thing to come out of the show. Or anything else from toys to Italia 90.