What is it about blind box toys? Who out there is demanding the tidal wave of them that toy companies seem convinced we are crying out for? What's the attraction – disappointment when you open it to find you've got the character nobody wants? Clearly not the target market for whatever their appeal is (they ain't no POG's), blind box toys tend to hover outside of my general sphere of interest. So that's the story of how The Loyal Subjects "Action Vinyl" toy line has evaded my gaze for the two years or whatever that it's existed, and it was only by chancing across an Instagram post advertising Masters of the Universe figures last week, that it came to my attention. MOTU is always the way to get my attention, but then it snowballed into GI:JOE, the 1995 Power Rangers movie, Thundercats, Turtles…all things I love. At a much more convenient smaller scale AND still stocked with articulation. A quick Indiana Jones plane map style jaunt across the internet later, and I came across the one discovery that would really rock my world for at least 30 seconds that day – the existence of a Street Fighter sub line.
WHAT.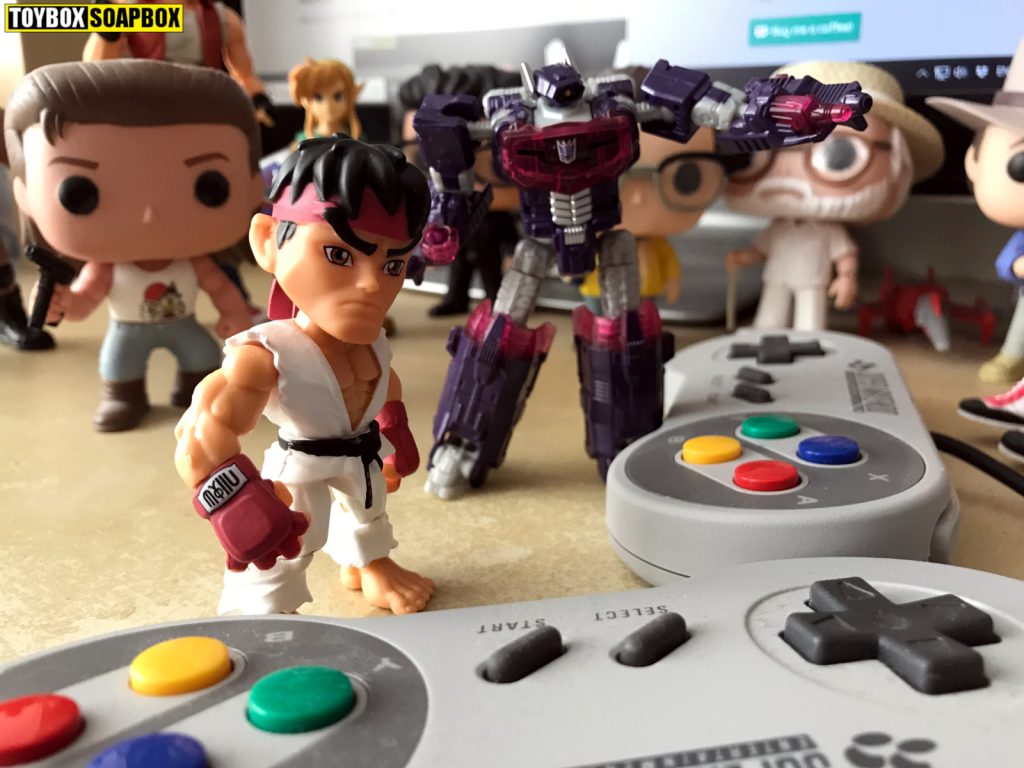 Lets rewind a bit. I am huge Street Fighter fan. Within the WWF sticker book stacked borders of Liam's world, Street Fighter is upper Premier League, battling for a UEFA Cup spot, level in terms of importance. Back in 1993, a kid in my class at school called Justin Smith came in one day with tall tales of this new game that the video shop up the road had replaced my beloved Final Fight with. Keen enough to investigate that we'd skip football practice, we headed to this purveyor of VHS tapes, not to rent out Aliens: Special Edition for the 800th time (that time, it sadly wasn't more…) but to see what this mysterious new champ was all about. Couldn't be that good surely? Better than Final Fight? No way. Plus we'd all played Street Fighter 1 and knew it was dead hard. But lo and behold Street Fighter 2 instantly owed us all, with it's addictive, fluid gameplay, giant sprites and incredible soundtrack and there was nothing the regular visits from the Nottingham Forest after schools programmes could do to keep us away from it.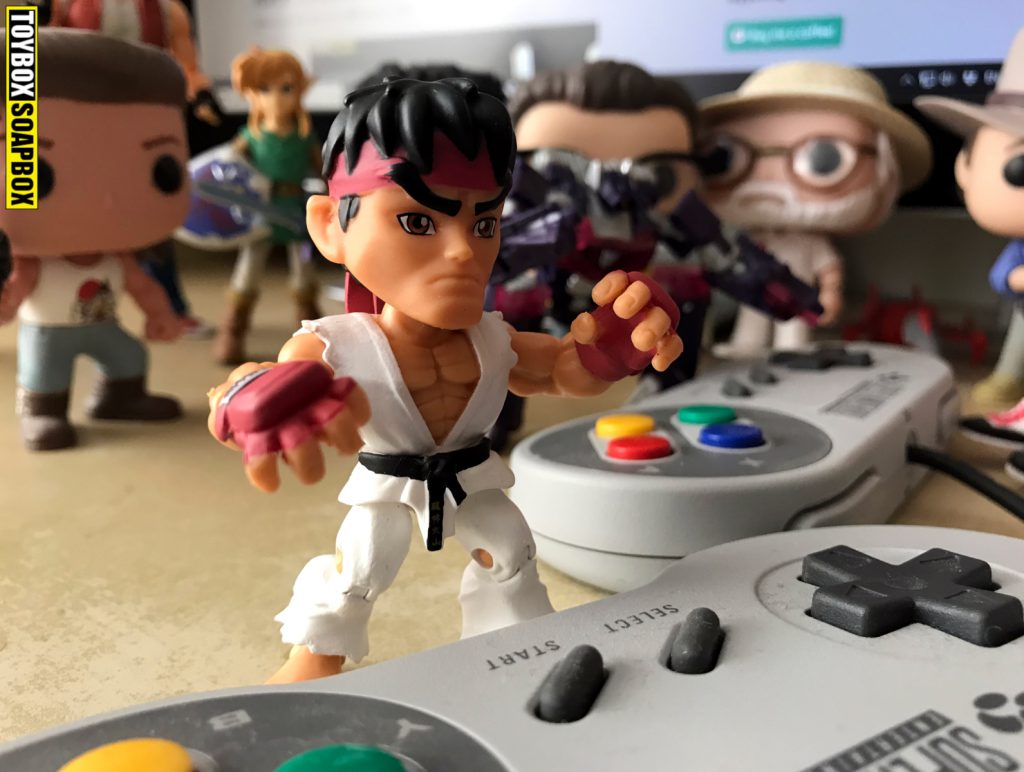 Later that year, my cousin would get an imported USA copy of the SNES version of the game and it was there, in the depths of its world building instruction book (remember those?) that the game took an even stronger hold on me. There would be tournaments on our estate for years to come, everybody played Street Fighter 2. I had the handheld LCD version, the GI:Joe figures, the sticker books, the soundtrack CD, posters, the terrible comics – everything. Flanked by Mean Machines, Gamesmaster and Bad Influence, it filled the void left by England's dismal failure to qualify for the 1994 World Cup (never darken my door, Ronald Koeman) and consumed the remaining part of me that wasn't already holidaying over on Isla Nublar. Man, that was a great year for anyone not wearing an England football shirt. 
One poor kid had the dreadful Commodore 64 version of the game, oh how we used to laugh.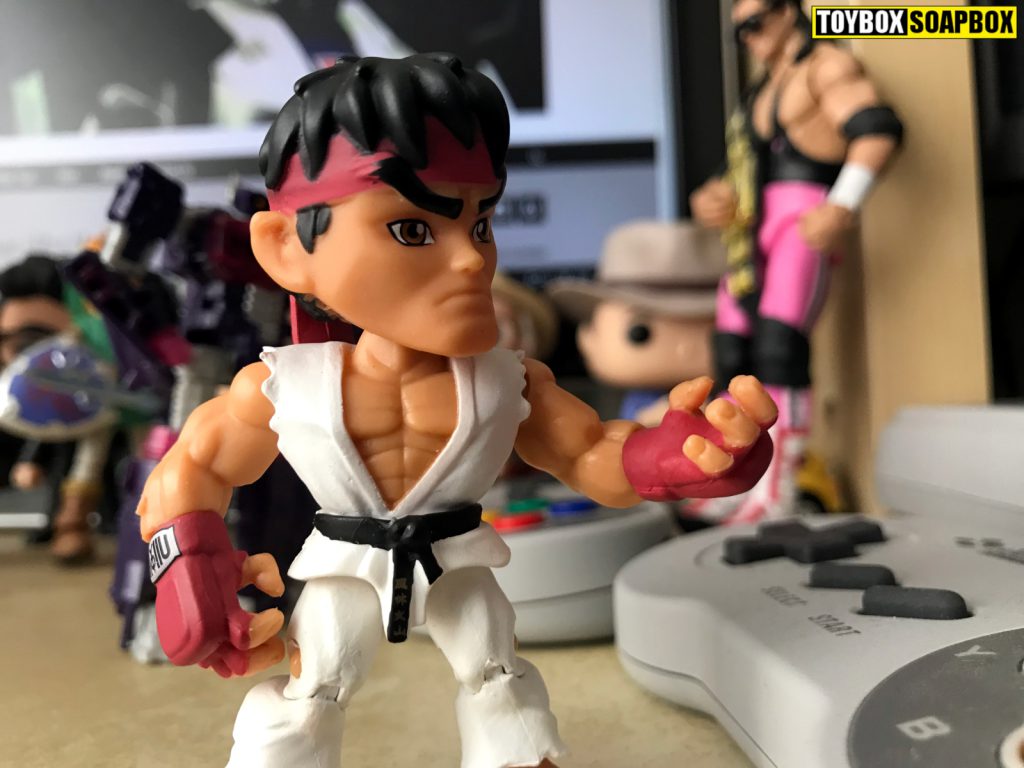 Fast forward to now and practically every corner of pop culture is being distilled into vinyl toy form, no matter how obscure. I am expecting an Emu and Rod Hull Funko Pop figure to be announced any day this week, alongside characters from the TV show Grottbags and Terrahawks. Street Fighter itself is an evergreen franchise so has proven to be perfect for just about anything a toy company can throw at it. The Loyal Subjects Action Vinyls are some of the first to genuinely grab my attention though, even if it is two years late. Thanks to eBay I can skip the whole whole blind box mystery nonsense and grab the main figure I want – Ryu. As the main character of the franchise, he is not the most interesting or quirky, but dude – it's Ryu. The character whose move set is as second nature as breathing. Who caused a generation of kids to run around play grounds sounding like Yorkshiremen shouting "How do Ken?". He's a dude whose only goal in life is to travel the globe, learning how to be the best….around. As subsequent sequel games have proven, nothing was ever able to keep him down.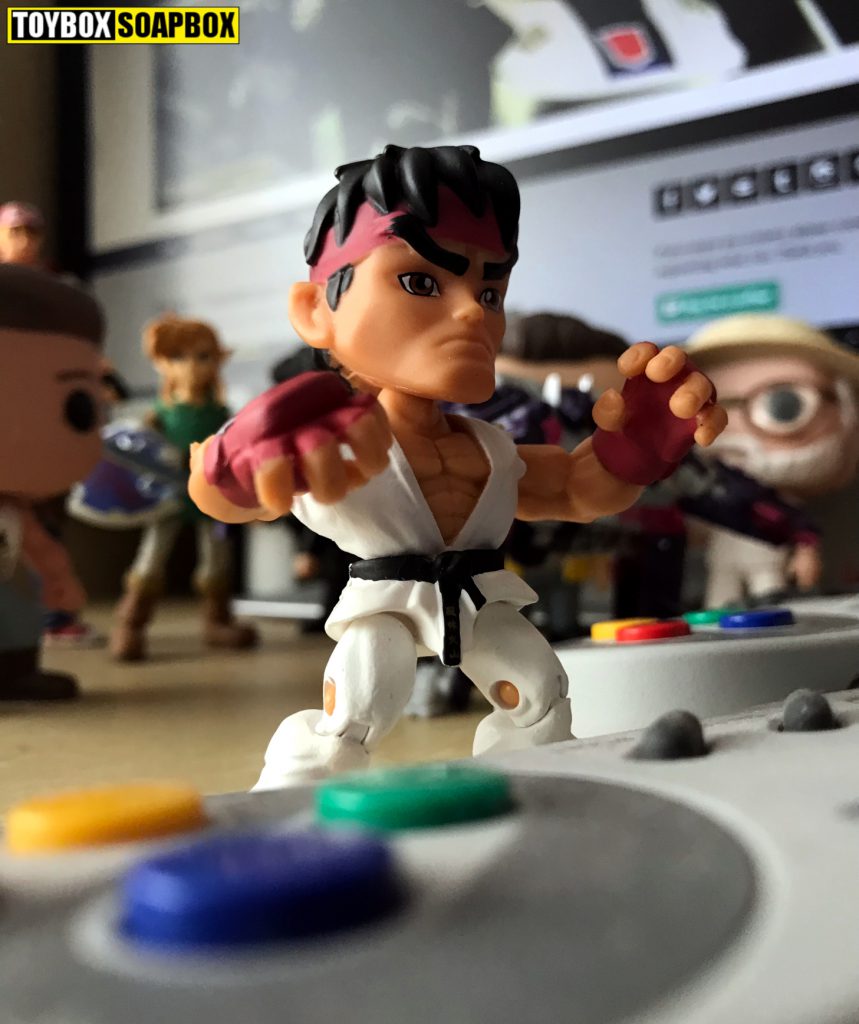 This particular figure seems to be based on Ryu as he appears in the more recent Street Fighter 4 and 5 design style with that swollen, ultra buff cartoonish CGI look that I am not particularly fond of. A strong Street Fighter 2 bent would have been my personal preference, but I've used up this years wish quota on Forest beating Derby last week. He's tiny too and in fairness this design aesthetic works nicely at a smaller, chibified scale where every feature is deliberately exaggerated. For a figure of such titchy stature, he boasts many points of articulation – even if most of it is limited by the sculpt. He has a ball jointed, neck, shoulders, hips and feet as well as wrist swivels and knees that can bend. There also seems to be a limited ball jointed ab crunch that also delivers full waist swivel.  A surprising amount is packed into Ryu's tiny frame even if there are limitations to what you can do with it. Posing him in any of his signature moves isn't really possible without some severe mental gymnastics, but then when do you expect from something the size of a pencil sharpener.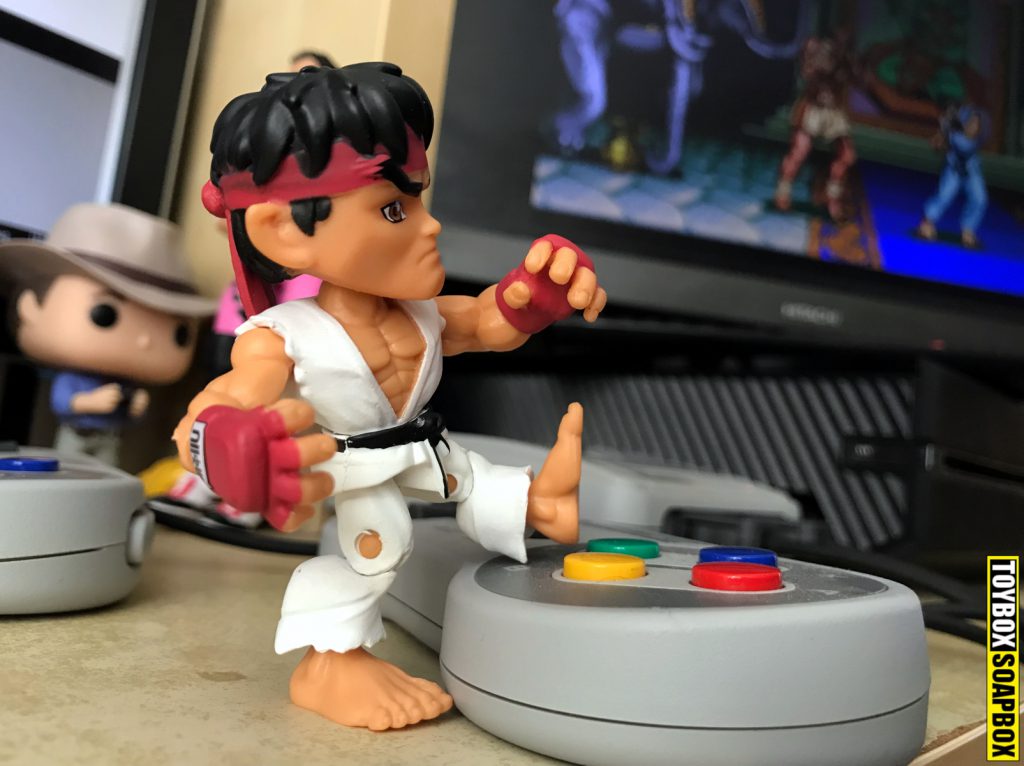 He's not all massive chin and inflatable muscle suit, there is a lot of detail for such a small little guy. His signature red head band hugs his head as perfectly as the sculpted hair that is trying to reclaim it. The Loyal Subjects have rejected the Funko approach of giving all of their figures Cadburys Cholocate Buttons for eyes, and his novelty, giant gaffer tape eyebrows make the jump intact. Ryu's suit is fully painted with his black belt having what I think is Kanji (damn my failing eyes) painted onto the front of it. A small touch that they really didn't have to do at this scale. Could have painted the knee joints on either side of his legs though.
Still, bit of Tipex – sorted.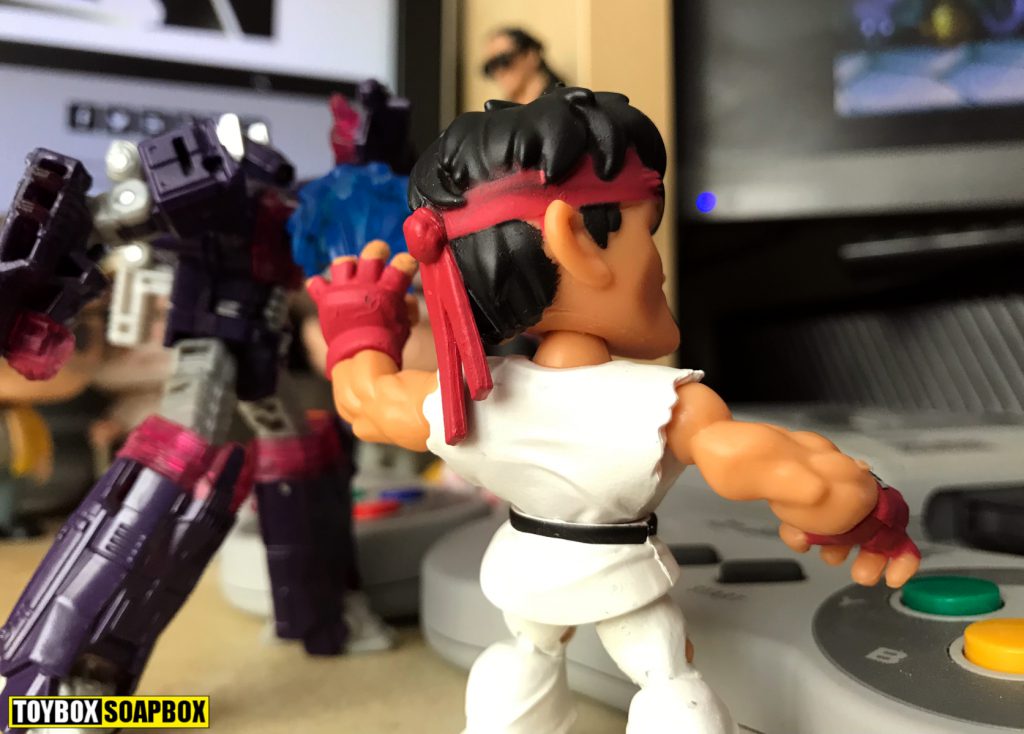 But that's not all folks! The Loyal Subjects have also been kind enough to throw in technically two accessories, but really it's one important one. Truly, the Ambassador is really spoiling us. Included in the box along with a bio card, are an extra hand and his iconic fireball. The new hand has that same "Kalimaaaaa" heart grabbing pose as his stock mitts, but a small port in the palm allows the fireball effect to connect to it. Owing to the limits of his articulation, he can't actually pull off the iconic dual handed "Hadouken!" pose – but he can do a fine Dan Hibiki impression. His bonus hand also lacks the sponsor detail on the glove, and I wish the "primary" hands also didn't have them as they look out of place on Ryu. He is a character of no flash, where everything is purposefully basic. The extra kanji detailing on the belt, and sponsor logos on the gloves add distracting detailing that he doesn't need. Though it is accurate, to Street Fighter V at least,  so it's not a genuine gripe.
Should you ever wish to find an example of just how fussy I can be – the above paragraph is probably it.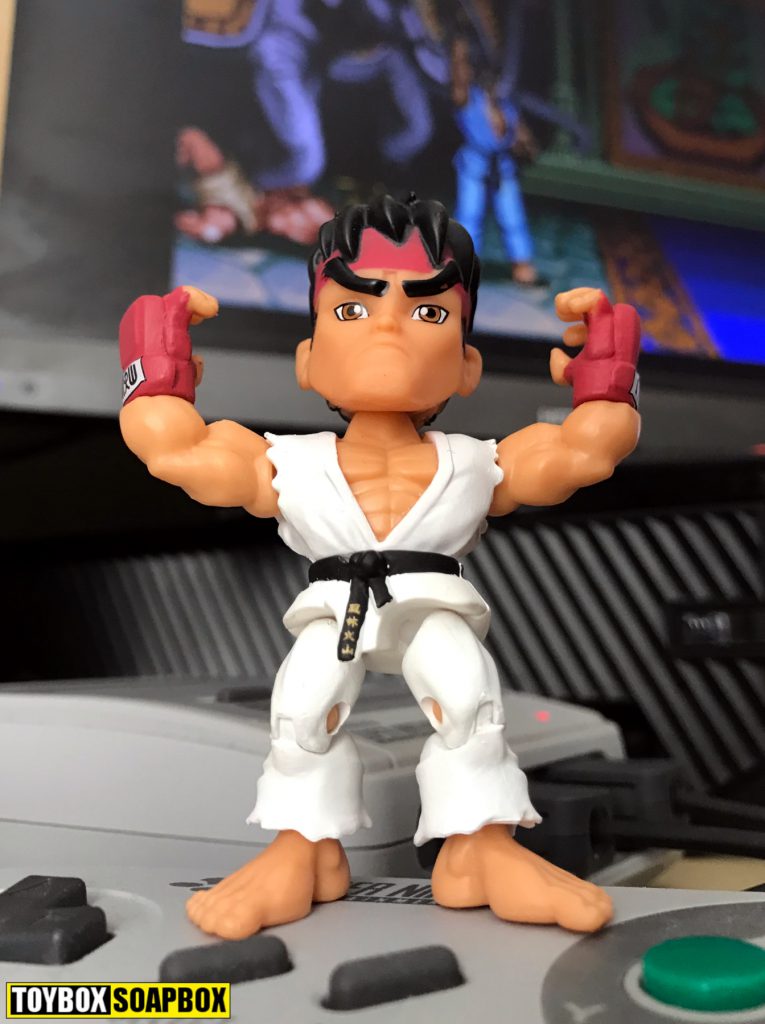 Part of me is disappointed in being so late to the party with these Action Vinyl figures. For most people these will have came and went along with the ice bucket challenge. For someone like myself who has a room busting at the seams with larger toys, these miniature figures are enticing with their offer convenience at a small size and reasonable price without sacrificing detail or play value. There is so much charm and value here as a little figure of one of my most beloved characters from one of my favourite franchises, that I can also keep on my desk to fiddle with, without it obstructing me picking up that glass of rum that perpetually lives within arms length.
Knowing that the Masters of the Universe and the 1995 Power Rangers Movie figures from this same line are now forever out of my reach is surprisingly painful but with eBay being a thing that exists, at least it gives me lots more things to add to my watch list and forget about. M.Bison, Ken, Vega and Chun Li are all needs at a minimum.
If anyone at The Loyal Subjects or Capcom ever happens to read this, then you know what would be perfect in this line? DARKSTALKERS.