It is with deepest pride and greatest pleasure that we welcome you to this article. And now we invite you to relax, just pull up a chair as Toybox Soapbox proudly presents a recap. T…F…N, TFN, put Transformers to the test, hang Reflector round your neck, Wheelie, and we provide the rest. Sharkticon, Rodimus, and we have to mention Swerve, try the booze it's delicious – don't believe me ask the seekers. *Hums be our guest for the rest of our night*
The UK's annual Transformers convention took over the Hilton Metroplex (heh) in Birmingham last weekend and yours truly was on hand for the full event, fueled by a healthy diet of rum and Pot Noodles. So lets take a quick, but very fond look back at the events of the weekend.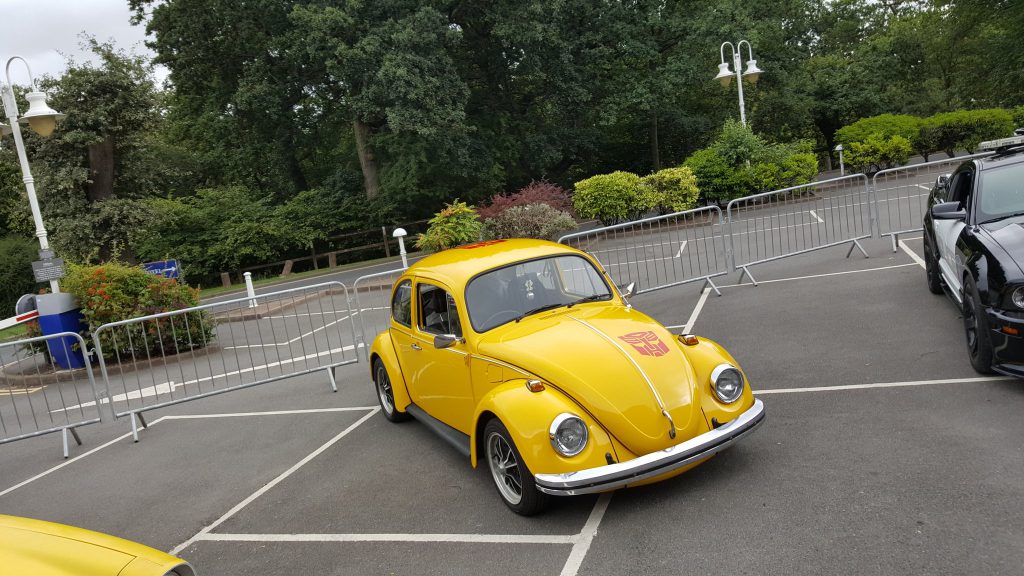 2018 is the first time I have made it to TFNation for the full weekend experience. I'd dropped in on an AA (no not the booze one, not yet) in 2012…ish…for an afternoon and always mulled over the idea of doing a full weekend, but being as I am so poorly organised/drunk I rarely was aware it was happening until it was actually happening. Far too late to shimmy up and get a room. Last year I popped in, got drunk, then fell out onto the last train home at some undetermined point in the evening and enjoyed myself so much that I resolved to do it properly this year.  When tickets went on sale I actually got myself together enough to book in advance thanks in no small part to a running Twitter commentary and my girlfriends pushing. I think she just wanted me away for a weekend of peace and quiet.
Talking about Transformers for longer than 10 minutes is a battle for me, but getting to drink with friends is broadly my life – and last year I realised that is what TFNation is really  all about.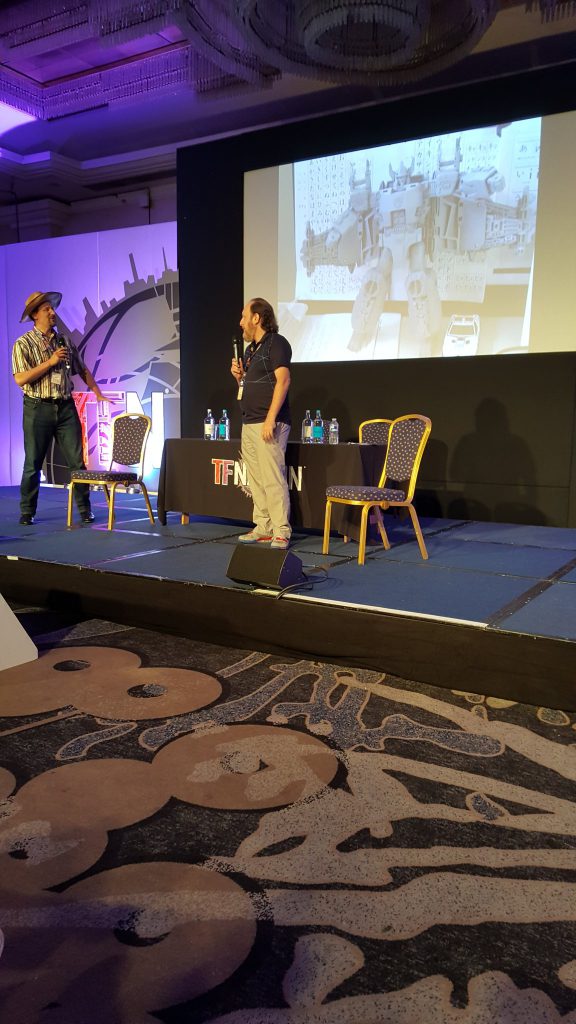 People love a good panel and TFNation was happy to oblige. I am not really into that sort of stuff, I am there mostly to drink and socialize, so I didn't get to sit in on many of the panels. But I know Aaron Archer was there (wearing the same trainers as me no less. Lad's got taste) talking about stuff, so were…errr…voice actor and comic people I believe. Also, cosplay seems to be a massive thing with some stunning costumes on display that must have taken an insane amount of work just fitting in the lift let alone making the things. One, had an iPad for a face and I honestly could not figure out how they could see. That is commitment. 
The one panel I did specifically make an effort to go to was Maz and Sixo's delightful chat about photography because thoey are two of the most lovely people you could meet, and both have helped me out immensely over the years. For a first time panel, it was fantastic and provided great tips and advice on how to take photos and all that good stuff. Hopefully they do another next year and if they do you should make sure you are in attendance, just to marvel at Maz delving into the psychology of making a toy look like it's running and the lengths he's gone to in order make physical smoke effects…
Pretty sure I was at a couple of other panels briefly, but that wasn't intentional, I just followed crowds of people thinking something exciting must be happening in that direction. When you are drunk and listening to the Wu Tang Clan on your iPod it is much easier to do that than take responsibility for making your own decisions.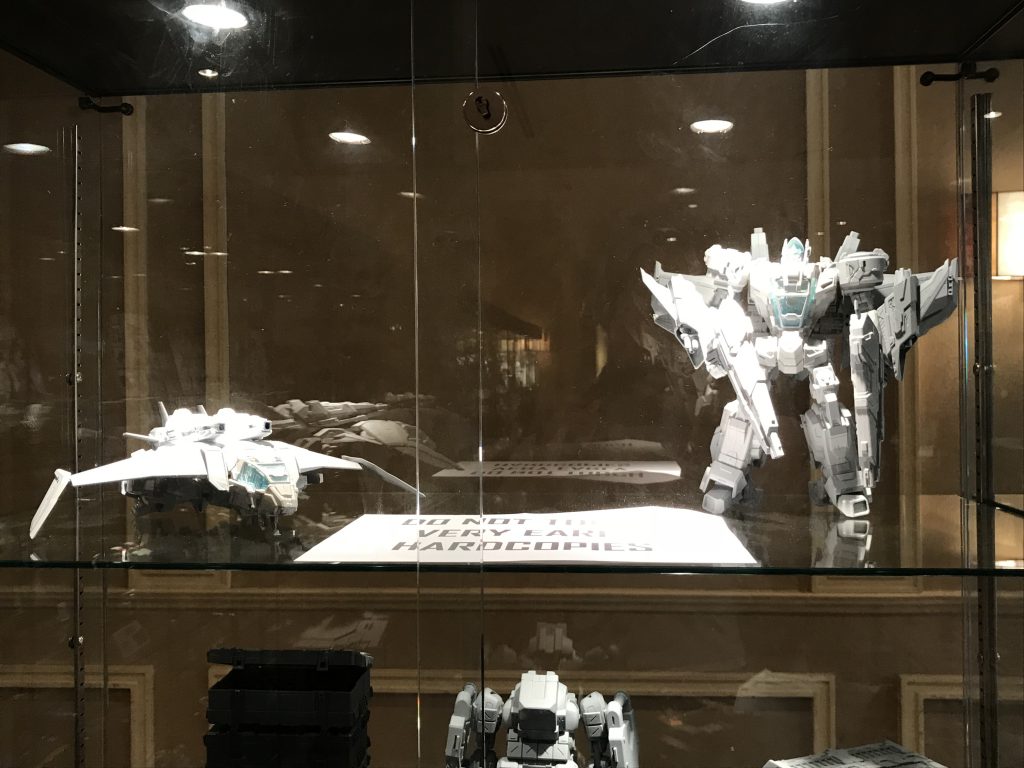 On display in The Forge (AKA: that place full of amazingly creative people who I am insanely jealous of), was lots of fantastic artwork and crafty things. I definitely saw key rings and possibly drinks coasters, but I always feel like an imposter in that environment so didn't really stop to chat to any of the extremely talented folk peddling their wares. Over in the corner of the room were cabinets filled with rare toys, custom figures and few prototypes, including a couple of eye-catching bots from Maketoys Cross Dimension series. Buster Skywing, which is their crack at shoving Jetfire into an Avengers Quinjet was on show and I am deeply into this as I've wanted to pilot a Quinjet since I was a kid in the 80's and used to stare at the bio for it in the pages of the Official Handbook of the Marvel Universe. This is probably the closest I am going to get in my lifetime unless Ready Player One becomes real.
Even more exciting than my vintage Marvel fancy being tickled, was lord of the spikes himself – Galvatron. Or the ludicrously over done "Rioter Galcatron", a name that bends over backwards to avoid trademark infringement before deciding to try to mask its true intentions behind something that sounds like a brand of washing machine cleaner. "Washing machines live longer with Galcatron". Anyhoo, he is the right sort of pointy for anyone with an IDW fetish and rocks that whole barbarian look with aplomb. I must confess I prefer my Galvatron hand crafted by Unicron with more curves and had initially planned to skip this, but after seeing it in person I think he may have Thulsa Doom'd his way into the buy pile. Tell you what would be a nice touch – if they do him in Marvel Comics colours.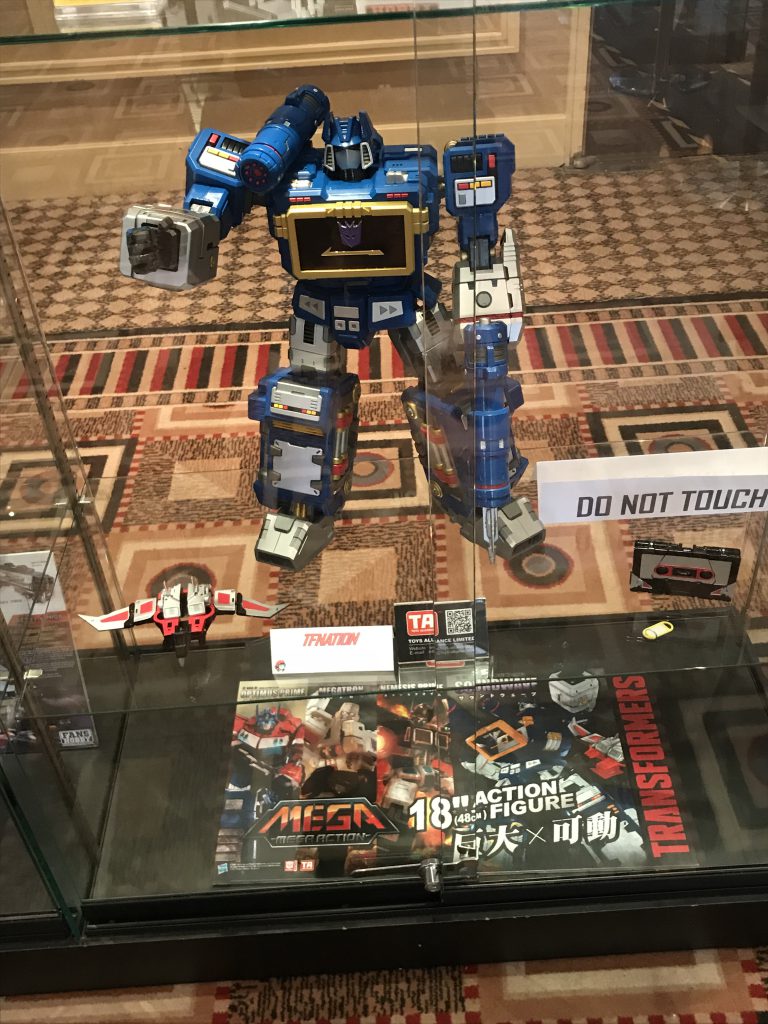 There was a plethora of other stuff, but the last thing that caught my eye was Mega Action Soundwave. The reason it caught my eye? Because it's massive and fills a good 75% of your visual field. At first I thought it was an entrant in the cosplay contest doing a bit of Beadles About. Calling it a toy doesn't quite sell it when you have to register it for a school place. It is absolutely insane and I want one. I can't afford one, but I want one. Sweetening the deal is a Laserbeak who appears to actually transform. Perhaps I have gotten that wrong, I was pretty buzzed at this point, but both the condor and tape cassette modes in the cabinet seem to have plenty of hinges suggesting a transformation. Unusual when you consider Hasbro seldom allow licensees to make their figures transformable.
None of the above were even the best things on display in those cabinets. Those winners were the custom figures, particularly Transformers Animated toys repainted to look like old WWF Wrestlers! Hey, mystery genius person who made those, I want them – badly.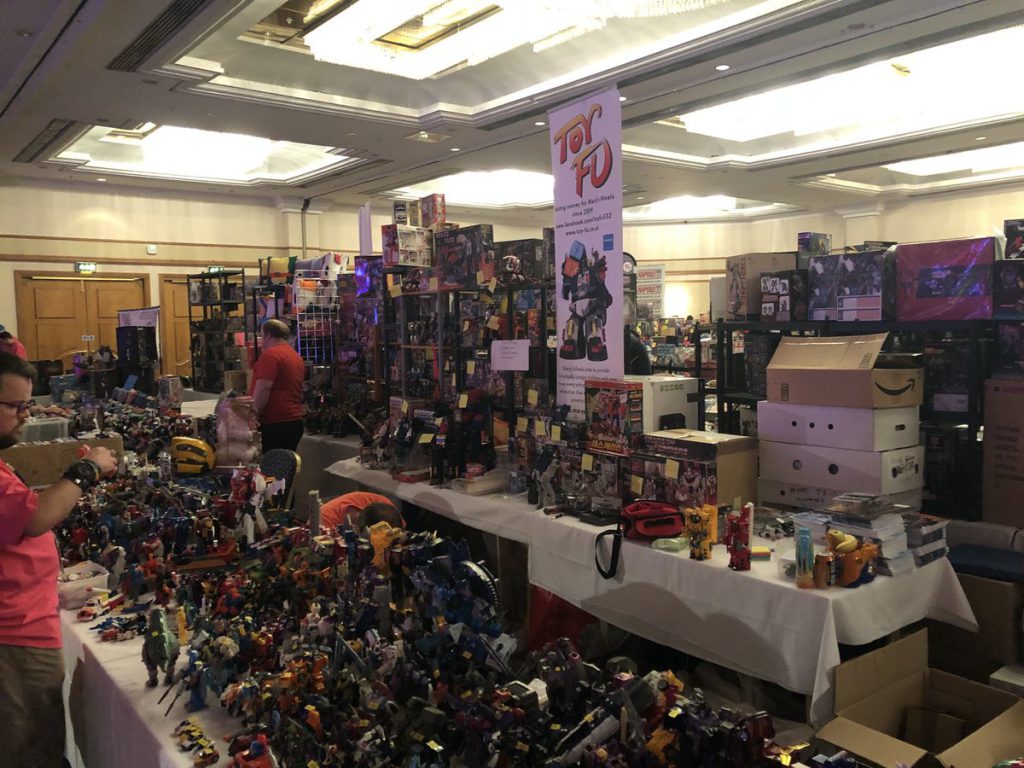 Situated next to The Forge was the infamous dealer room. A hall filled with treasure laden tables from your favourite UK toy vendors, and like any good treasure bounty hidden away….but this time behind a moving wall of humanity. I like my space so I had to step back, take a deep breath and then drop a Care Bear stare to get through it all. Being drunk (and getting drunker) from the night before didn't help, but I struggle with busy crowds at my least inebriated. When people start shoving as you are quietly rifling through a pile of stuff looking for that elusive Wheeljack wing, because they are scared they might miss out on a bargain, it grinds my gears a little.  But like all good Brits, instead of going all Wu Tang, I seethe in silent, polite inner rage and just move away vowing revenge using my inside voice.
One of my most frustrating moments occurred when I picked a £40 vintage Superion out of a box, a total bargain and one of my most sought after figures. As I was trying to get the stall holders attention, someone stopped to chat with me so I put it back down on the table, and when I turned back around it had gone! Cue furrowed bow and declaration of vengeance on the unseen party.
Kapow, In Demand, The Spacebridge, Nottingham Robot Company, Toy Fu and others whose names I was too drunk to recall were all heavy in presence with piles of cool stuff. It's a bit overwhelming how much stuff there is because no matter how focused you try to be there is always a little something that catches your eye. So be prepared to be unprepared. Does that make sense? Do I sound like Scar from the Lion King?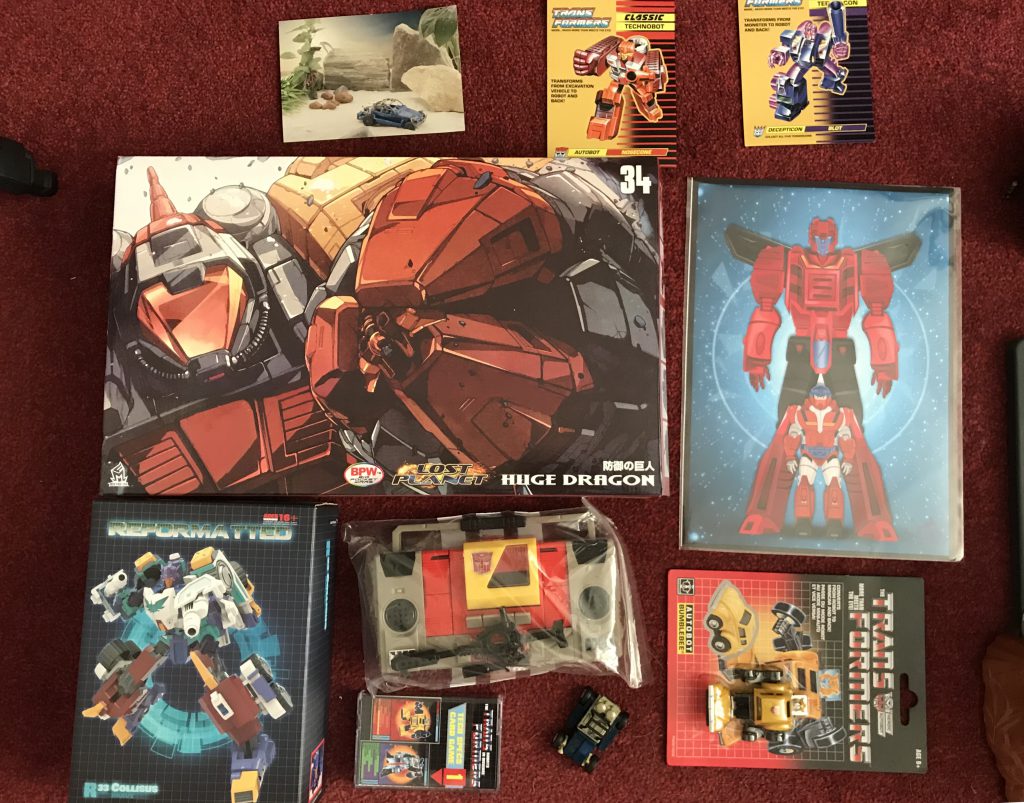 Prior to this years con, my key resolution was to avoid an error I made last year (buying stuff that I had no clue what it was, because I was drunk), thus spending months putting together a long list of stuff I'd fancy picking up in the laser focused manner of a German penalty. Tons of stuff ranging from missing accessories, to full figures, but looking at that iPhone picture above only one of those things was on the list. Sigh. Everything else was either a spur of the moment buy or the result of Dom showing it off in the bar the night before causing my brain to line up like an alcoholic Connect 4 of grey matter. "The best laid plans" is an often used cliche but I swear whoever came up with it had probably been to TFNation. Overwhelming is probably the best description for the dealer owing to the sheer volume of toys, comics, creative doohdahs and just about anything you are looking for is probably in baggy at the bottom of a box in there. However, I will say it actually came up slightly short as some of the things I did resolve to hunt for, I did not find. A G1 Cliffjumper and Binaltech Smokescreen proved more elusive than common sense on the floor of the current British Parliament.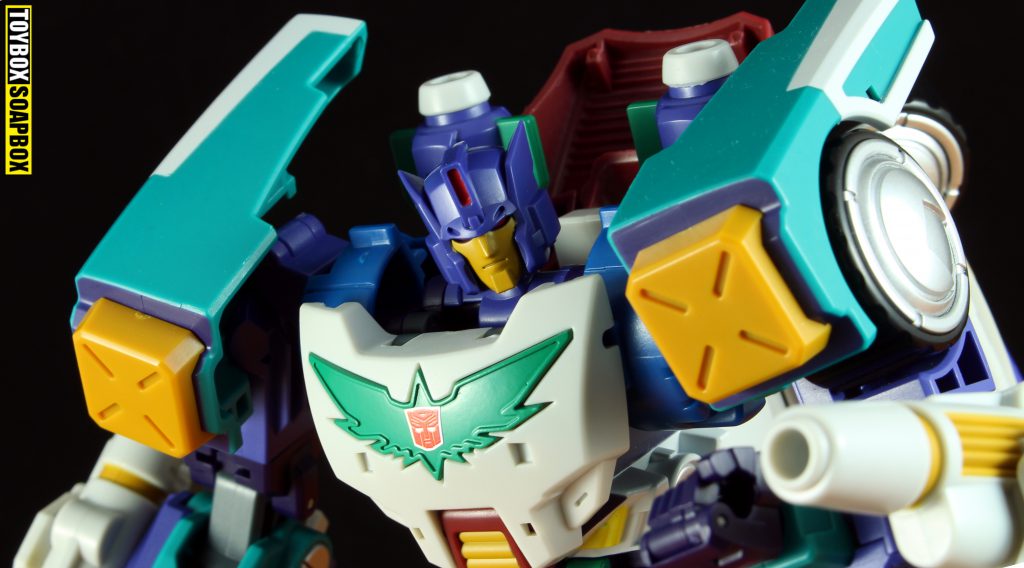 As much as going in with a clear list sounded great, I was happier picking up things I hadn't planned on. One of the most fun elements of a convention like this is seeing things in person that you hadn't really thought about and wondering how you ever existed without them. Step forward Mechfanstoys Huge Dragon, who is a not so huge Omega Supreme. Initially I was on the fence about it but seeing it in the bar, sadly not buying drinks for everyone as it's only a toy (the youth of today will use any excuse) it's a fantastic take on Omega at a size that doesn't require me to mark it as an occupant on my council tax forms. Kids, that's how you inadvertently end up £60 worse off. As the Saturday progressed and the bar filled with more and more folks enjoying their finds, it was great to see so much excitement over so many wildly different toys, comics, art or whatever else as people just wanted to revel in the enthusiasm of their hobby – and that is the best bit. Often we can get bogged down on the internet talking about articulation, shades of a particular colour or other stuff that doesn't mean much when you actually get it in your hand and you are given a jolt of nostalgia. People kept handing me stunning pieces of art too. My mind was blown when the obscenely talented Jamseydraws handed me a print of Pretender Cloudburst that is one of the best things I have ever seen. And I once watched Steve Chettle run into his own goal post and knock himself out.
By far my favourite purchase of the event was MMC's Thunderclash guy who I got for a bargain price and is every bit the greatest Autobot he proclaims himself to be. All the time. He won't shut up telling me to update my antivirus. Le sigh.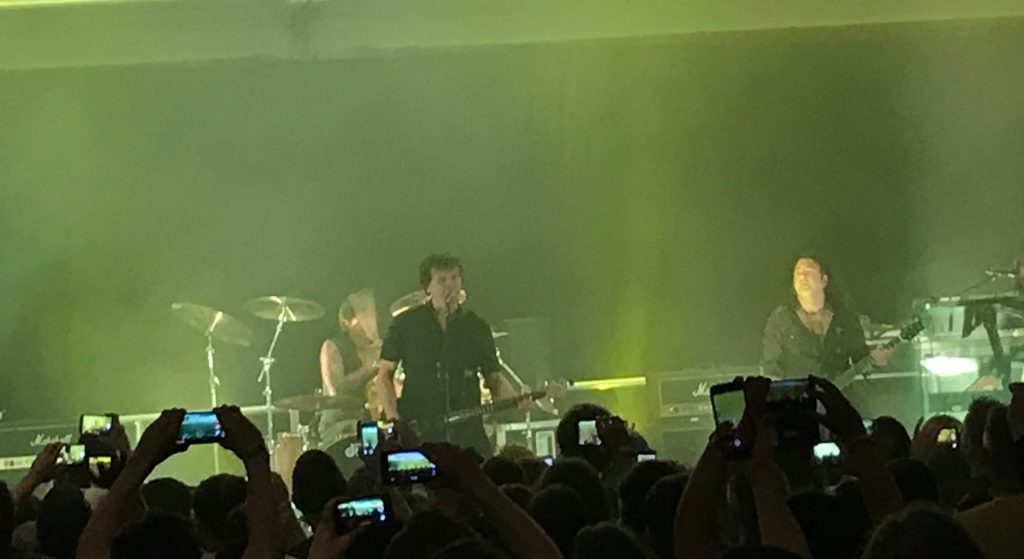 Stan Bush was in attendance performing more than just those two songs from Transformers the Movie. Gotta give him props as I have never been to a gig that sounded so much like the 80's were being summoned from history into the room. Clearly this meant a lot to a lot of people. Transformers the Movie is still such a powerful touchstone for the fandom, particularly those of us of the G1 ilk who remember being in shock at how the movie played out but also the joy of the musical score by that bloke from Rocky IV and then the big hitters on the soundtrack, The Touch and Dare. Both being forever intertwined with some of the most emotional moments for a generation of children. One song because it was our first introduction to the concept of death of a loved one (Prime 🙁  ) and the other because we thought the future would be all hoverboards and jumpsuits.
For me, I was there mainly for that song from Kickboxer, (Never surrenderrrrr!Never say die! You've got the heart of a hero!), which of course was excellent even if nobody did the splits. Over the years I've been to hundreds of gigs, seeing bands I adore that all mean different things to me. Faith No More, The Sugarhill Gang, The Deftones, Aerosmith, Alexisonfire, Roots Manuva and many more, but it's amazing how two songs from an animated movie that I saw at the cinema in 1986 still manage to stir more sentiment than any of those.
So that was the weekend that was. You can easily find a squillion better rundowns than my article, as I maintained a comfortable level of drunk throughout the whole thing and this is solely me talking about it from my own personal perspective. As amazing as it sounds, I find it very tough to talk about robots for that long (as noted by the amount of times I skipped Transformers and went straight to football or wrestling talk) so the beauty of this event was meeting up with people I only see once a year, or have never had the pleasure of meeting. Making new friends or hanging out with old ones. Brand new drinking buddies. I know we all have our own anxieties and those can often preclude us from diving into social situations, talking to people, hating Derby County or whatever but the great thing about TFNation is everyone is there to bond over shared interests and the majority are incredibly accommodating. Next year, if you see me and want to have a natter about anything, then just say hi. As my dear mother is endlessly is fond of saying – I approach every situation with an open mouth.
The robot stuff really is just a sideshow for me personally. It's the thread that pulls together a much larger, varied tapestry of experiences. Clough on a bike, did I just type that? Must be the age. Or the rum.
There are so many people I'd love to mention but I will just say to all the fantastic people I met, spoke to, stumbled into, collapsed onto and drank heavily with – thank you. Can't wait to see you all again next year. That is what TFNation is to me, friends. And booze. Lots of booze.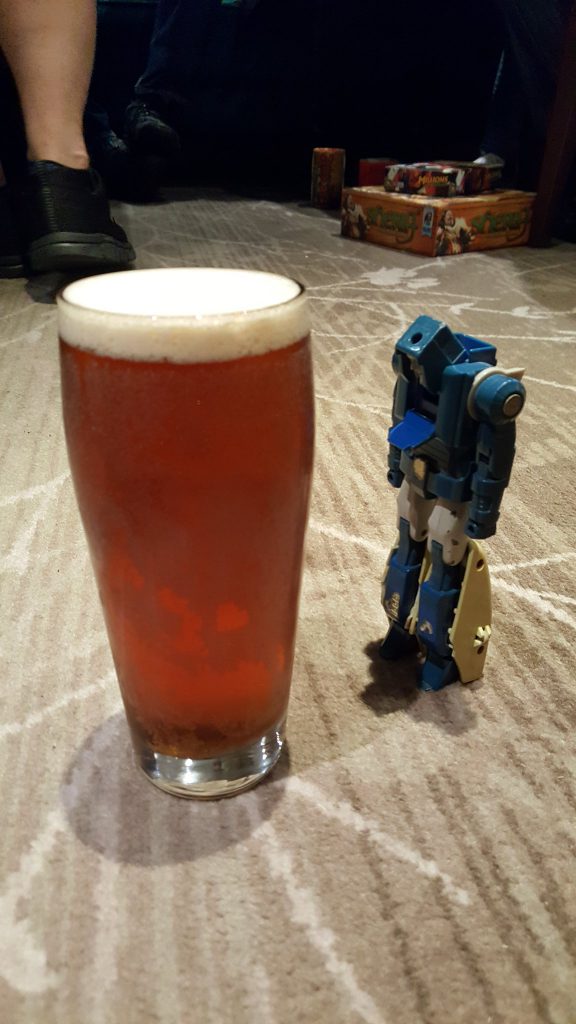 Thanks to Dan Ghile and Garry Bodsworth for letting me use a couple of their photos. Blinding bunch of lads!