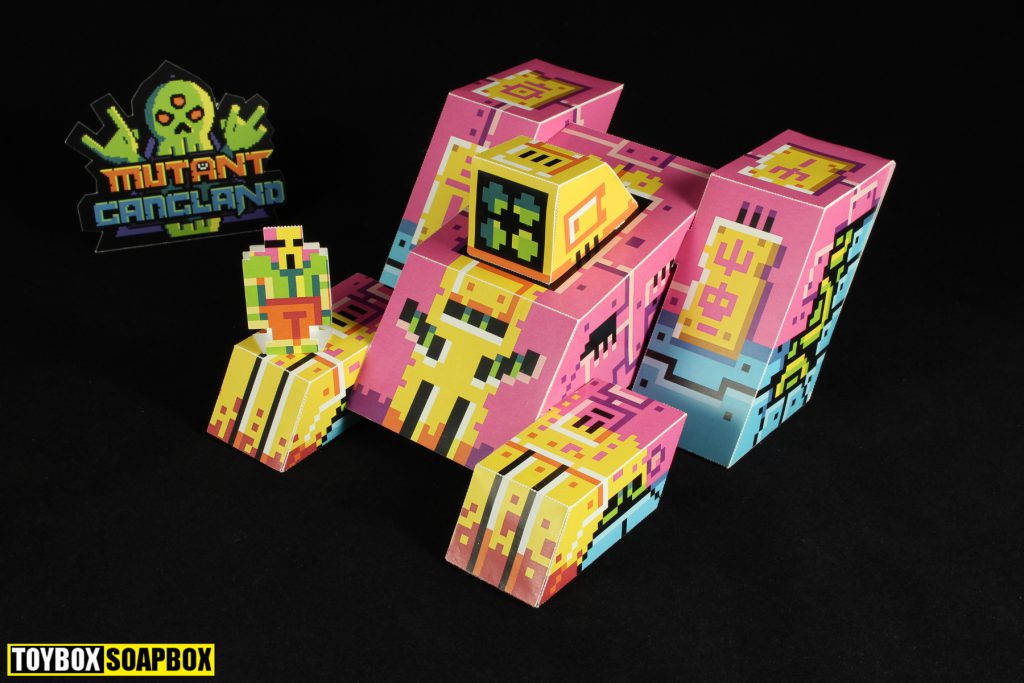 Every now and again I come across a papercraft model kit that looks amazing and I wish I could build it. Surprisingly, I love the idea of papercraft – I'm just really bad at it. At work I used to pass the time printing off model kits of various characters from Metal Gear Solid to Transformers (so predictable) with varying degrees of success. Forever am I envious of the very talented and creative people who are able to conjure up stunning, elaborate designs that should not work in paper form but somehow do. All seems like sorcery to me.
In a new twist a papercraft model kit actually found me. Offered the chance to take a look at a model kit that looked like something that fell out of my dreams, came with the promise of being easy to build and NOT require scissors (my ancient foe) – I lept at the chance. 
And that is how we arrive at the subject of this article – Thundermoar.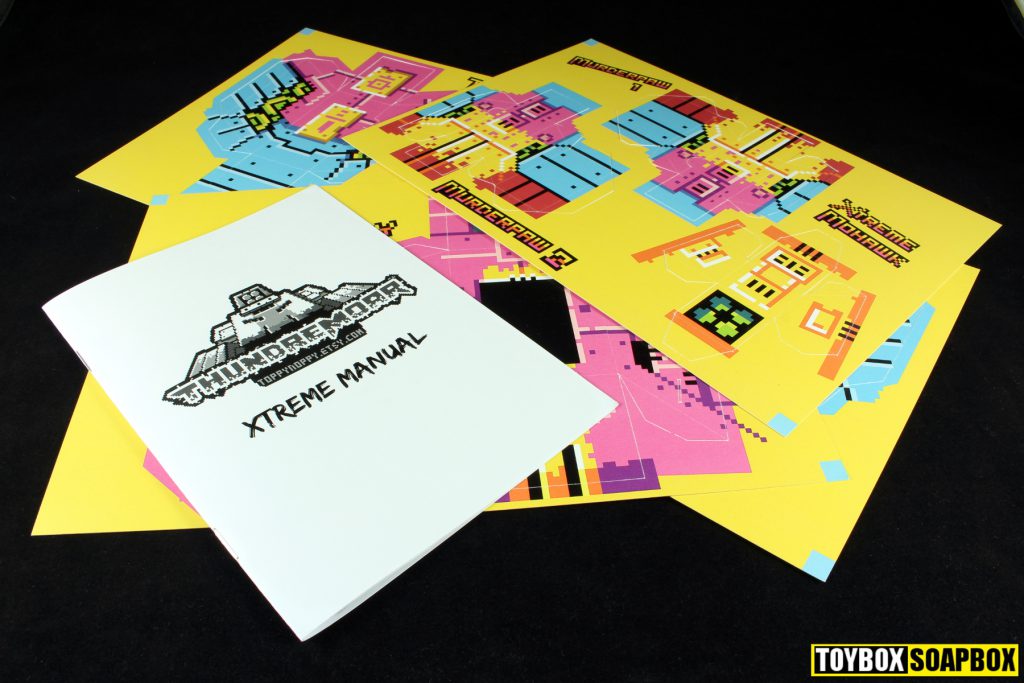 The Thundermoar kit consists of 4 sheets of cards and an instruction manual. More than just an instruction manual – the booklet is an "Xtreme Manual". What that means, beyond just guiding you through the process of building the thing, is it also acts as a handbook to Mutant Gangland world. Yep, there's a story here folks and the booklet is written as if it's the diary of someone hunting for the elusive Thundermoar tank.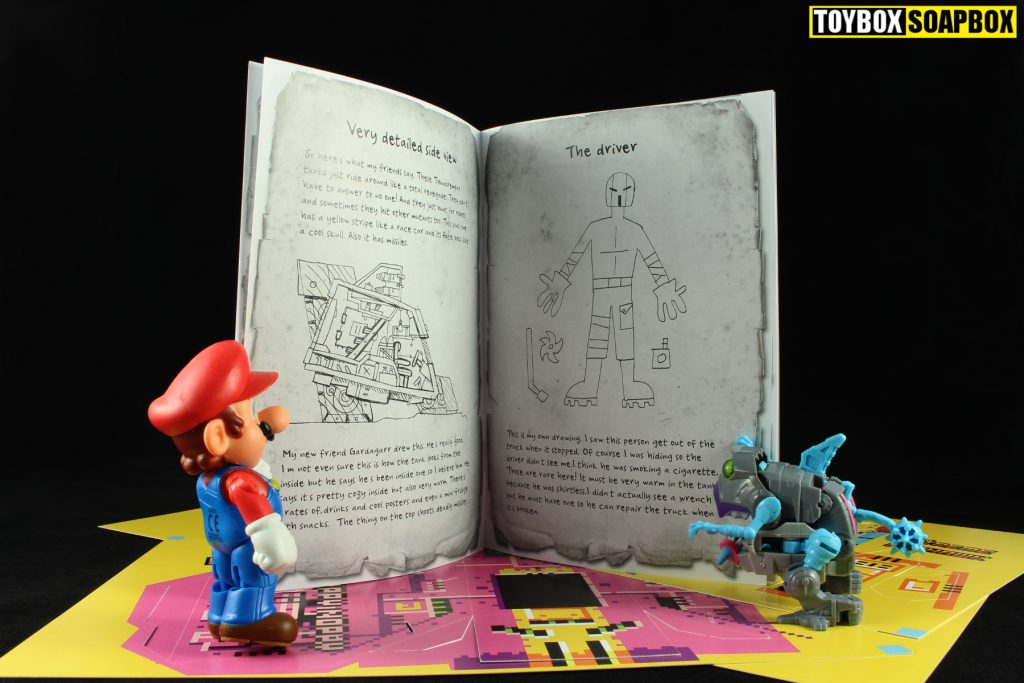 There's a treasure map, handy if you've ever dreamed of being a Goonie (never say die!), a schematic and even an explanation of the various markings that adorn the tank. All of this is told from the point of view of some mysterious individual which is a writing style very close to my heart. It's the treasure map I dig the most with its many fun little locations that seem like its are doing a tour of post apocalyptic 80's movies or an NES RPG. There's no way Plane Town isn't where Mad Max and those creepy weirdo kids banging on about the "before times" live. I'm fairly sure I went to the Slime Pit Arena once when I lost a bet with a friend and had to go to Derby County's stadium….
Remember when treasure maps were exotic and exciting? Now you just ask Siri and next thing you know you've got satellite photo's of some soggy patch of earth in the Peak District and your phones already telling you the traffic is backed up on the M1. So you stay at home and watch Match of the Day instead.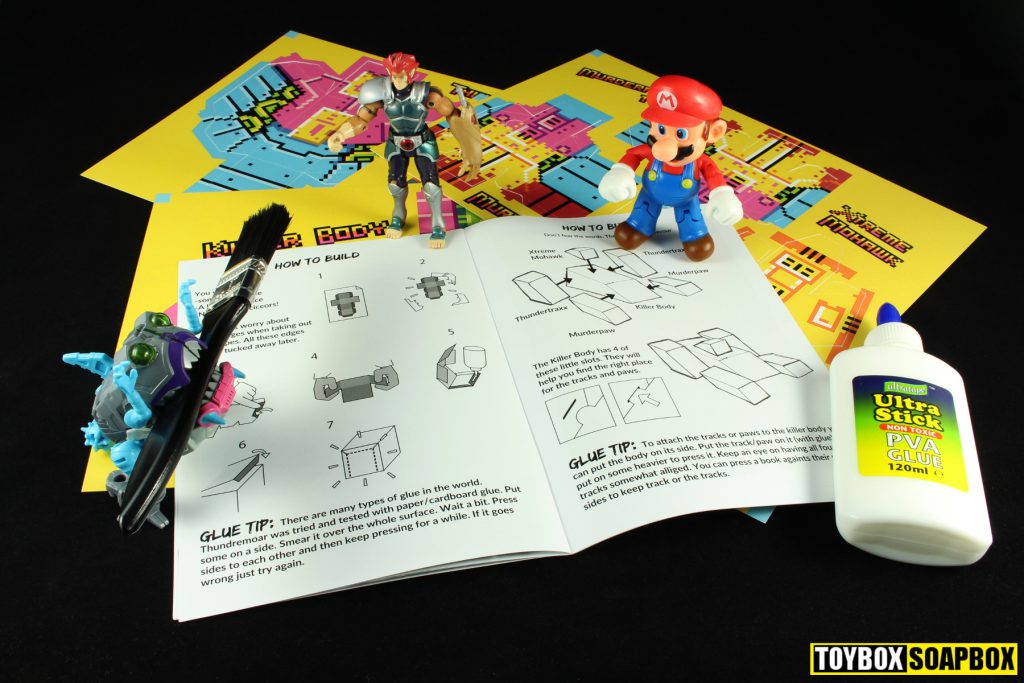 Construction is straightforward. You don't need any extra bits – just glue. So one extra bit. According to my girlfriend's text message we had PVA in the house, but after turning the place upside down I had to go on a merry adventure which saw me return home with a box of Curiously Cinnamon and some paprika flavoured fries that were on offer at Morrisons. And glue.
Each piece is pre-cut so all you have to do is push it out of the card. Once you've popped each part out, it's a simple process of folding along the scored lines then gluing the flaps together. I used a brush to apply the glue because otherwise I would just end up covered it….and I ended up covered it anyway. But you don't really need one. Make sure you use a decent amount of glue to avoid it falling apart in your hands. Nobody wants that.
As each of the five main pieces is constructed you can slide them into slots on the side of the central body, adding a dash of glue, and you are done. There is no cutting, no measuring, no accidental folded bits, no broken hopes or dreams instead it's a very inclusive little build. Perfect for beginners or people like me who can't wield a pair of scissors.
It's papercraft in it's best form. Quick, fun to do and your model comes out pretty pristine. Also it lets you feel a sense of achievement as me and my school mates did in 1991 when we used to volley a goal in the playground and would wheel away singing "Alive and Kicking" emulating the old Sky Sports ad.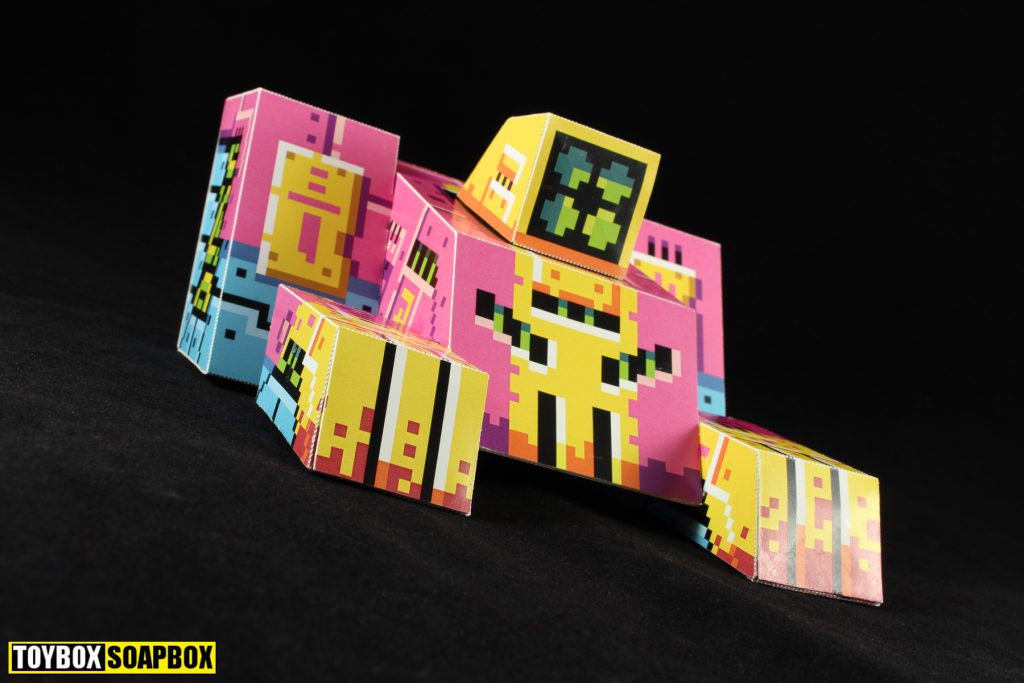 Your freshly assembled the Mutant Death Truck, Thundermoar, warms your soul in the hot pink glow of it's Wheeled Warriors and Thundercats sucked into a NES game like Captain N, looks. It's a gorgeous looking pixel art tank. The shape, with the slanted front, the beast paws on either side and large treads on the back are heavily reminiscent of the Thundertank. Across the front, the windows and vents form an angry face that feels very much like Saw Boss from Jayce and the Wheeled and Warriors. Adding bars as if some dark creature is imprisoned inside is a lovely little touch that fires the imagination.
Markings and glyphs decorate the exterior of the tank with 8bit gusto. What each of these means is explained in the book, acting as another sly throwback to the video games of the 80's and 90's when you had to actually read the instruction books to have a clue what was going off. Street Fighter 2, for example even told you Ryu's date of birth. Dude has aged better than you'd expect someone who can throw literal fire would. There is an incredible eye for detail across the tank with even the underside and glued sides of each piece fully detailed.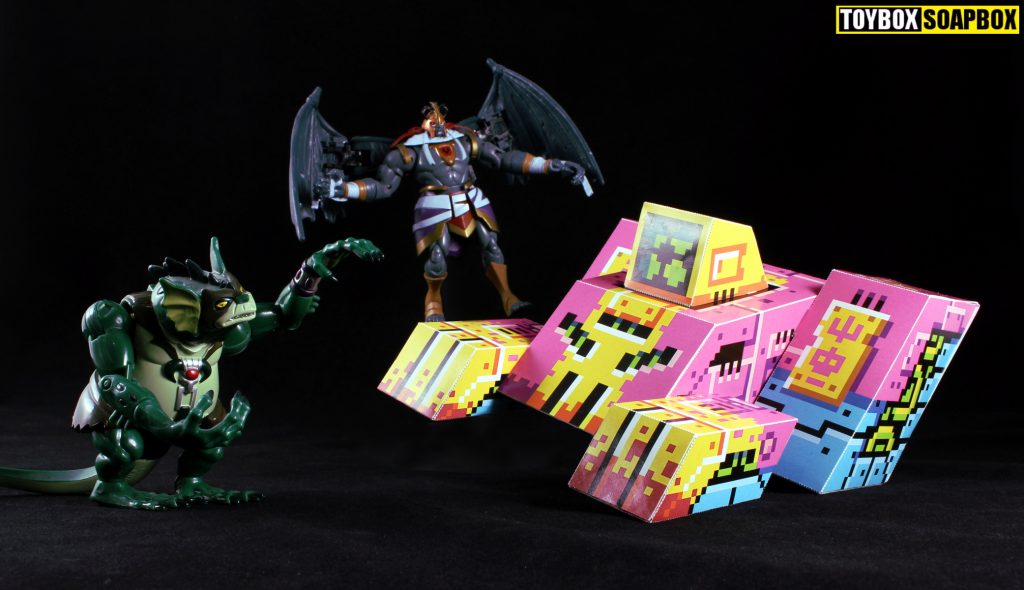 Thundermoar does also come with a driver, given an appropriate 80's style name – Ripjaw. He himself is a simple cardboard piece folded over and glued together and is much like a board game piece (incidentally the lore and designs of all this would work well as a board game). He can't actually sit in the tank, as there are no doors or open sections but I wouldn't be surprised to learn there was some mind controlling tomfoolery going on.
A bit of a switch from the usual transforming reviews then but this is a curious toy that is influenced by so many other things that I am hopelessly in love with. For years I have wished I could build model kits, but lack the patience and skill required. Thankfully things like this come along that allow me to scratch that itch without getting in a strop. I would love to see more of the Mutant Gangland and especially see it make the jump to a video game, board game or something. It is perfect for it.
Thundermoar is also available in a wicked green skin with different details including a giant eyeball glaring from the windscreen, which you can check out, as well as buy this kit by clicking the link below and going to the Toppy Noppy store. Thanks again to the creator for being kind enough to send me this one to check out
Buy Thundermoar here: Toppy Noppy Store